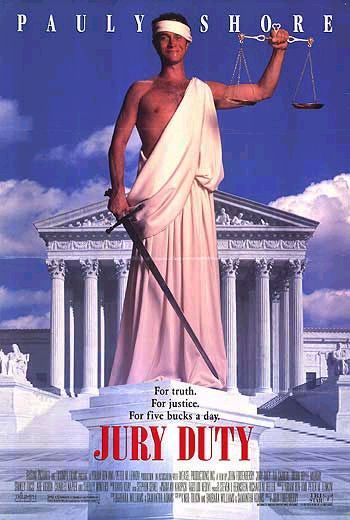 I've reported for Jury Duty four times.
My first experience was during school in Boston where I sat in a massive room with no book for three hours before we were all declared unnecessary for the day and released.
The second time I had to venture to Long Beach. Again, I sat in a jury room--although I remembered a book. I lasted past lunch. Unlike in Boston, I watched as others were called to be potential jurists on various cases. My name was never read. I went home.
Two years ago, I reported for my third stint. This time a local case in Torrance. Experience taught me well. I brought my laptop to do some work--set everything up...and right after the day began I was immediately called to a courtroom. After they released me on that case, I went back to the jury room, set myself up again....and they sent me to another courtroom. This time I ended up in the jury box. Selection continued to a second day (I earned fifteen whole dollars for returning!), but this was a medical malpractice case so after a squirly attorney learned during questioning that I knew someone in the midst of some major healthcare issues, I was axed.
So here I was on Thursday...back at the Torrance Courthouse. This time I was backed by a company that pays 10 days of jury duty. I went in wanting to get picked just for the experience of it all.
I find a spot at a table with two older guys and some punky looking artist kid. I setup my laptop. (The jury room now has wifi!) Plugged in to my music and waited...and waited...and waited. At some point they read about 80 names to report to a courtroom. My tablemates and I were spared.
Lunch break. 2 hours! Nice. I ordered a beer with my sandwich just because I could.
Get back. More waiting. More waiting. At 3:30 they start reading more names. Off we go. (Off everyone goes...)
We pile in to the crowded room. I wonder what could await us.
Murder case. At least 20 court days.
Just my luck. The average case is only six days and the one time I've ever had a situation where work could cover it, the case is three times longer. The guy next to me says 15 years ago he was on a case that lasted 95 days. Yikes.
As it turns out they're not very hardass about cases that go longer than a several days. We were the fourth group of 80 people brought in and more were coming on Friday. The judge asked if the schedule would be a conflict for anyone and half the hands in the room went up. We each had to stand and explain our situation. I answered honestly that I had a nonrefundable plane ticket for holiday travel. Most of the other excuses were related to financial hardship from missing work. A handful of older hispanic women claimed they didn't understand English very well. ...yet they spoke and answered clearly. Hmmm. One said she's been living here for 32 years. I wonder what the statute of limitations are on 'don't speak the language'. Towards the end of the survey a woman started crying that her meth addicted husband was home alone with her daughter and she needed to get there fast. After a sidebar she was released. Someone else went into a long explanation about being the sole caregiver for a parent that had some pretty gross bathroom requirements. Ugh with the TMI.
At ten minutes to five most of those who had an issue were sent home and that was the end of it. Another day of jury duty and another day of avoiding the jury.
I don't know how the judge had patience after one single panel of excuses and we were but one of many. Yikes.
My mother recently told me she's never been called for jury duty. How is that possible!? I have no doubt I'll be back in that room yet again in two or three years.